Roll over image to zoom in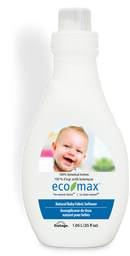 Description
Our Natural Baby Fabric Softener is a plant-based product that is specially formulated without the use of known sensitizers to provide a safer product for baby clothes, linen, towels and cloth diapers. It softens clothes and reduces static cling without leaving toxic chemical residue behind.
Ingredients
This product contains: Water, Canola Ester Quaternary Amine, Propylene Glycol, Food Grade Potassium Sorbate.
Buy more and save
Order by the case and save 10-20% instantly, percentage is product dependent. Select the case option from the item's Size menu to see the discounted case price.
Free shipping available
Shipping rates within Canada
Free shipping for orders over $50.00*
$5 for orders between $25 and $49.99*
$12 for orders below $25*
Free shipping for Laundry Strip orders over $25.00.
Shipping rates within the United States
Shipping fees and product prices are in Canadian Dollars. We are unable to ship to P.O. boxes. See our Shipping Policy for complete details.
Payment & Security
Your payment information is processed securely. We do not store credit card details nor have access to your credit card information.