Roll over image to zoom in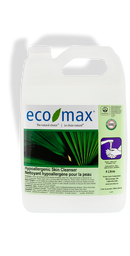 Description
Eco-Max Hypoallergenic Skin Cleanser is specially formulated without the use of known allergens to provide a safer product for sensitive individuals.  This plant based, environmentally responsible formulation handles tough soils but is safe and gentle for the entire body.  This is a scent free product.  Eco-Max Hypoallergenic Skin Cleanser is the product of choice for use in restrooms at fine restaurants, hotels, offices, institutions etc.
Effective, safe and gentle for use on the entire body
Non-GMO, latex free, scent free product
Non-toxic to humans and aquatic life
Zero indoor air pollution
Readily biodegradable
EcoLogo certified
Recyclable packaging
This product DOES NOT CONTAIN the following commonly used ingredients: Latex based Opacifier, Fragrances, Toxic Preservatives, Chemical Dyes. The preservative used in this product is food grade potassium sorbate.
Buy more and save
Order by the case and save 10-20% instantly, percentage is product dependent. Select the case option from the item's Size menu to see the discounted case price.
Free shipping available
Shipping rates within Canada
Free shipping for orders over $50.00*
$5 for orders between $25 and $49.99*
$12 for orders below $25*
Free shipping for Laundry Strip orders over $25.00.
Shipping rates within the United States
Shipping fees and product prices are in Canadian Dollars. We are unable to ship to P.O. boxes. See our Shipping Policy for complete details.
Payment & Security
Your payment information is processed securely. We do not store credit card details nor have access to your credit card information.